Serving SW Washington, Oregon & Beyond Since 1983
Financial planning for real life — yours.
You work hard and want to live your best life. We can help you get there with financial planning and ongoing guidance that matches the life you want.
Want to see what's possible?
Money doesn't plan for retirement, dream of travel, or map out a new chapter. But you can.
Our financial planners work with people through all stages of life – from college funding to retirement and all the changes and decisions in between. If you're ready to plan for your future or your loved ones', we'd love to learn more about you and your needs.
Expertise in all aspects of financial planning
What do you need help with?
For some, this goal is still many years away. For others, it's right around the corner. In either case, we help by being a sounding board and creating an action plan so you'll know what it will take to make your retirement dream a reality. This includes distribution planning so you know what account to draw from and how much, and the amount of tax to withhold.
Tax Strategies & Planning
Traditional tax firms are backward-looking — merely recording what's already happened. We take a forward-looking approach. A good tax plan considers all of your options and eliminates surprises. Your financial planner, tax professional and you will work together to plan and implement tax strategies developed during the planning process. Tax planning is especially valuable to clients going through transitions like starting retirement, deciding when to sell rental property, marriage and divorce.
We also pride ourselves on follow-through. Should a client receive a letter or audit notice from a tax authority, we're here to resolve the issue.
Wills, powers of attorney and advance directives are an important part of your financial plan. We will partner with you and your attorney as needed in drafting and updating documents to meet your wishes. Once your documents are in place, we will assist in making sure your investments are titled correctly and the beneficiaries on your retirement accounts and insurance policies are in alignment with your estate documents.
Private Client Services and its representatives do not provide legal advice.
We are financial planners, advisors, and confidantes.
We combine technical knowledge in financial planning and portfolio management with care to help you see what's possible in life.
Meet some of our financial planning team.
Meet Patricia Spies, CFP®
Financial Planner
Meet Amanda Reynolds, CPA, CFP®
Financial Planner
Meet Zach Reuter, CFP®
Financial Planner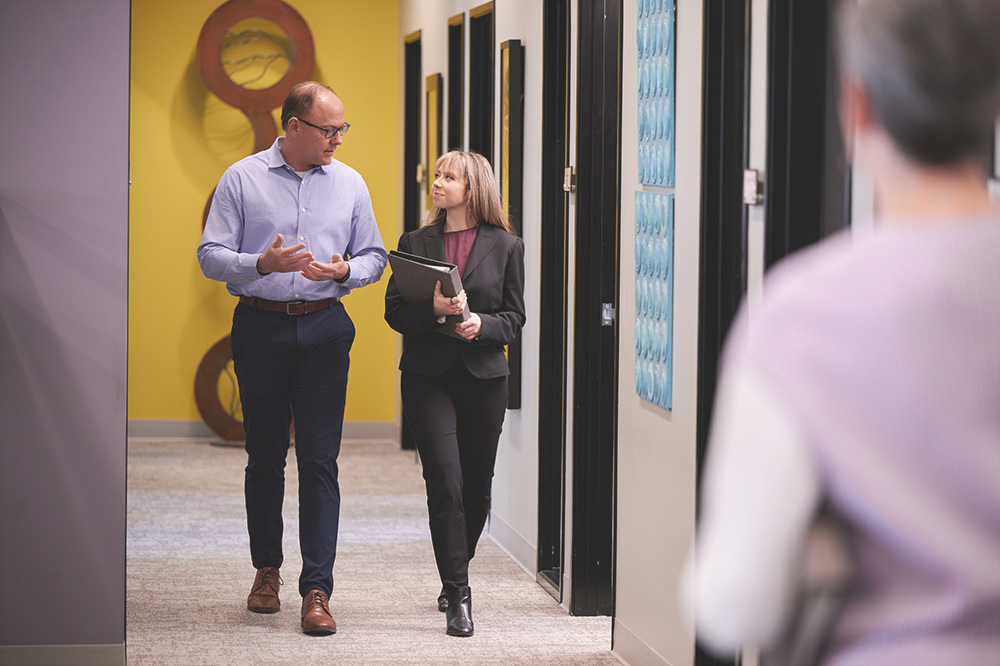 Is our financial planning approach right for you?
If you're looking for a long-term relationship with a financial planner who checks in, provides personalized advice, and walks alongside you as life changes, reach out.
Make informed financial decisions.
It's important to us that you have what you need to make informed financial and life decisions. Feel free to use our resources and insights, and reach out if we can help you with other topics.
What's it like working with us?